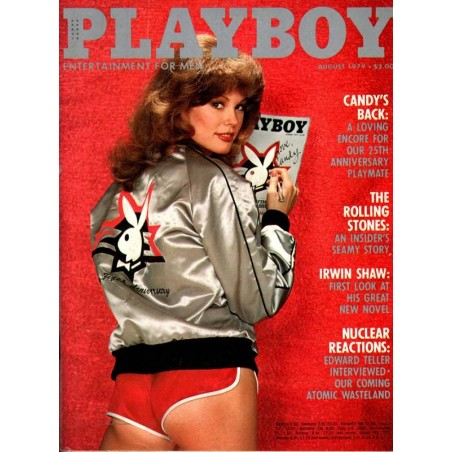  
Playboy USA Nr.8 / August 1979 - Candy Loving
Titelbild: Candy Lovings back: A loving Encore for our 25th Anniversary Playmate
PLUS: The Rolling Stones: An Insiders seamy Story - Irwin Shaw: First look at his great new Novel - Nuclear Reactions: Edward Teller interviewed, our coming Atomic Wasteland
Original Inhaltsbeschreibung:
COVER STORY Yes, folks, thats our delectable 25th-anniversary Playmate, Candy Loving (photographed by Executive Art Director Tom Staebler), wearing a satin disco jacket with our 25th-anniversary logo hand-stitched an the back. If you'd like to see more of Candy, turn to page 140. If you'd like to have your very own Playboy disco jacket, send your shirt size and a check for $98 made out to Playboy Enterprises, Inc., to: Disco Jacket, c/o Playboy Enterprises, Inc., 747 Third Ave., New York, N. Y. 10017. And when you boogie, think of us.
PLAYBILL
THE WORLD OF PLAYBOY
DEAR PLAYBOY
PLAYBOY AFTER HOURS
BOOKS
DINING & DRINKING
ADVENTURES
MUSIC
MOVIES
COMING ATTRACTIONS
THE PLAYBOY ADVISOR
THE PLAYBOY FORUM
PLAYBOY INTERVIEW: EDWARD TELLER—candid conversation
Despite the near disaster at Three Mile Island, the controversial -father of the hydrogen bomb" pooh-poohs the dangers of radiation. What we should be worrying about, Teller maintains, is Soviet superiority—in armaments and in civil defense. We don't have to teil you what he thinks of Jane Fonda
LADIES AND GENTLEMEN, THE ROLLING STONES. . . .—memoir TONY SANCHEZ
The author spent seven years in the entourage of the world's most ferocious rock-'n'-roll band. Among his functions: supplier of exotic substances. In an excerpt from his forthcoming book, he teils how women and dope nearly destroyed the band in the lote Sixties.
STAY AS YOU ARE—pictorial
A hot first look at the new Italian movie starring Marcello Mastroianni and the luminous Nastassja Kinski, Germany's answer to—almost everything
GOING FOR THE GOLD—sports PETER ROSS RANGE
You'd think that after .Bill Rodgers' third triumph in the Boston Marathon, he'd be happy. He isn't. He wants to demolish the wall between amateur and professional status, so that American world-dass athietes can afford to train for the Olympics without going broke.
TURN ON YOUR BRIGHTS—attire DAVID PLATT
Inspired by disco, designers have put the accent an flashy colors for this year's summer wear.
SHE'LL TAKE ROMANCE—playboy's playmate of the month
Judging from our mail, Vancouver-born -Dorothy Stratten was one of your favorite finalists in last year's Great Playmate Hunt. Now she's the centerfold. Who says we don't listen to our readers?
PLAYBOY'S PARTY JOKES—humor
WASTE OF THE PECOS—article RICHARD RHODES
What dying town wouldn't be glad to have an economic shot in the arm as long as it came from a legitimate source? Well, in Carlsbad, New Mexico, the shot is nuclear waste, the Government is the legitimate source and the choice isn't that simple
VIVA VINO BIANCO!—drink EMANUEL GREENBERG
Summer is the perfect time to try those amiable, inexpensive Italian white wines
THE TOP OF THE HILL—fiction IRWIN SHAW
The first of a three-part excerpt from the latest novel by one of America's top storytellers: a tale of a man at the pinnacle of success who feels fully alive only when he's challenging death.
GOOD SKATES—modern living
If you haven't gotten things rolling yet, maybe it's because you don't have the right attitude. We do. Look and see.
ANOTHER LOVING LOOK—pictorial
While our 25th-anniversary Playmate was taking a grand tour of the Chicago Playboy Mansion, we were taking another photographic grand tour of Candy
PHYLLIS—ribald classic JONATHAN SWIFT
20 QUESTIONS: FRANK LANGELLA
Dracula said he never drank wine. But he never said he didn't drink Tab. And Frank Langella drinks Tab. And no one has ever seen Langella and Dracula together. Could it be ?
PLAYBOY'S PRO FOOTBALL PREVIEW—sports   ANSON MOUNT
Once again, our peerless prognosticator gives you an early line an teams and players in both conferences of the N.F.L
PLAYBOY FUNNIES—humor
PLAYBOY'S PIPELINE
Man & work, country real estate and sperm banks
PLAYBOY POTPOURRI
LITTLE ANNIE FANNY—satire .. HARVEY KURTZMAN and WILL ELDER
PLAYBOY ON THE SCENE
Ice-cream makers, four lives of a shirt, TR-7 ragtop.
Seitenanzahl: 247 Seiten
Sprache: Englisch
Centerfold / Poster USA: Miss August von 1979: Dorothy Stratten
Eigenschaften von diesem Artikel
Magazine vom Monat ...

8/August

Magazine aus dem Jahre ...

1979
4 andere Artikel in der gleichen Kategorie: