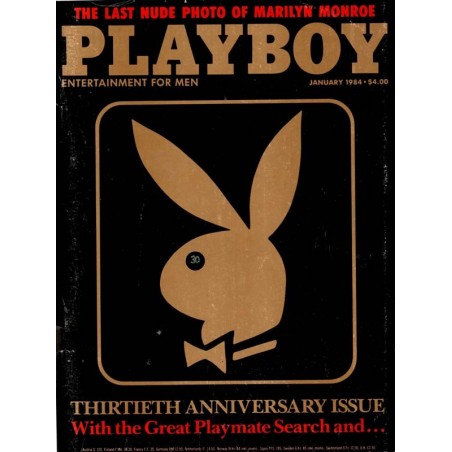  
Playboy USA Nr.1 / Januar 1984 - Penny Baker & Rabbit
Titelbild: Thirtieth Anniversary Issue with the Great PLaymate Search Penny Baker and Rabbit
PLUS: The Last nude Photo of Marilyn Monroe
Original Inhaltsbeschreibung:
COVER STORY We organized a yearlong search party to find the apple of our dapper Rabbit's eye, and we're pleased to report that Penny Baker turned up. Shot by Contributing Pho-tographer Arny Freytag, this month's cover opens the door to one of our most exciting issues ever. Whatever you flip for, it's probably here. And whether you prefer heads or tails, you're sure to come up a winner with Penny just by turning to page 138
PLAYBILL
THE WORLD OF PLAYBOY
DEAR PLAYBOY
PLAYBOY AFTER HOURS Reach out and zap somebody, and other miracles of telecommunications
BOOKS Gifts to put under the tree; the latest from Philip Roth
MUSIC Holiday hits for would-be Santas.
TELEVISION TONY SCHWARTZ
Our reporter penetrates the inner sanctum of an Arbitron home.
MOVIES BRUCE WILLIAMSON
The Right Stuff is on target; finally, a fairly decent movie of a Stephen King novel.
COMING ATTRACTIONS JOHN BLUMENTHAL
Shirley Maclaine as a hitchhiking nun? Read all about it.
MEN ASA BABER
WOMEN CYNTHIA HEIMEL
THE PLAYBOY ADVISOR
DEAR PLAYMATES
THE PLAYBOY FORUM
PLAYBOY INTERVIEW: DAN RATHER—candid conversation
Broadcast journalism's number-one gun takes a few shots at local news and national news, defends 60 Minutes and describes the Machiavellian machinery behind the scramble for Walter Cronkite's throne
THE TRAIL OF YOUR BLOOD
ON THE SNOW—fiction GABRIEL GARCIA MARQUEZ
A young bride pricks her finger on a rose Her young husband, unable to stop the trickle of blond, finds himself face to face with inexorable fate. A winner of the Nobel Prize for literature weaves a new web of horror and love.
HOW I INVENTED PLAYBOY—humor BUCK HENRY
We've kept the secret for 30 years, but now, for the first time anywhere, our illegitimate father reveals how he gave Hef the keys to the empire.
MEMORABLE YEARS—pictorial
From Marilyn Monroe right up to the present—from 1953 to 1983—we've been uncovering the best shapes of three decades. Here's a reprise of some of our greatest hits.
REMEMBERING TENNESSEE—memoir TRUMAN CAPOTE
Like his character Blanche DuBois, Tennessee Williams depended on the kindness of strangers and seldom received it. Now comes a kind reminiscence from one of the playwright's few genuine friends.
PROVOCATIVE PERIOD PIECES—pictorial
Another class in erotic-art appreciation, taught by Charles Martignette, one of its foremost authorities. No leering, please.
PLAYBOY MAGIC FOR THE HOLIDAYS JOHN RAILING
Tired of frittering away valuable party time watching the old folks wear lamp shades and the young folks do the pogo? We have four special tricks, courtesy of a certified magic man, that will turn those yawns into applause.
THE IDEA KILLERS—essay KURT VONNEGUT, JR.
In which one of America's most censored writers strikes back with his most powerful weapons: sweet reason and the faith that—in this country, anyway-it prevails.
THE TODAY SHOW—attire HOLLIS WAYNE
Four top-drawer designers offer the best of their spring lines so that you can make the best of yours.
THE GREAT 30TH ANNIVERSARY PLAYMATE SEARCH—pictorial
Penny Baker became our 30th Anniversary Pkiymate by acclamation, but we think you'll agree that the runners-up deserve just as much acclaim
LUCKY PENNY—playboy's 30th anniversary playmate
There's really not much point in saying anything about Penny here, since you've already looked at the centerfold. The Young lady defies description but, fortunately, does not defy photography.
PLAYBOY'S PARTY JOKES—humor
THE TOYNBEE CONVECTOR—fiction RAY BRADBURY
The great time traveler has granted an interview at last, but it turns out the future may not be what it once seemed
WHAT ARE FRIENDS FOR?—humor ART BUCHWALD
One thing friends are for, apparently, is to help you bounce back when your marriage hits the rocks. Some of those bounces are bound to be untrue
THAT WAS THE YEAR THAT WAS—humor TOM KOCH
You wouldn't play footsie with Tootsie in 1983? Well, all your heroes and villains get even verse in our annual one-finger salute to the year gone by
THE ELEVENTH-HOUR SANTA—gifts
At least an hour's worth of great ideas for the last-minute shopper
CUNTS—poetry JOHN UPDIKE
One of our greatest men of letters puts five of them together in a compelling configuration.
STAR 80—pictorial
An attempt to bring the story of star-crossed Playmate of the Year Dorothy Stratten to the screen, with a new and improved Mariel Hemingway.
DARE TO BE WRONG—article ROY BLOUNT JR.
Everyone's too cautious these days, says the uncautious author, yearning for the really good fuck-ups of yesterday. But perhaps it's not too late to learn
SHADOWBOXER—article MARK KRAM
Kram once compared the still-active Muhammad Ali to a cat trying to hold on to a windowpane. Now he finds the former champ almost fresh out of lives.
THE LAST NUDE PHOTO OF MARILYN MONROE—pictorial
Thirty years ago, she was the Sweetheart of the Month in the very first issue of PLAYBOY. This month, the greatest sex symbol of all makes a final appearance in a never-before-seen photo
WHAT I'VE LEARNED ABOUT BEING A MAN—memoir IRWIN SHAW
The author of Rich Man, Poor Man looks back over an eventful career, realizing that he has been both
COCKTAIL CONSTRUCTION—drink EMANUEL GREENBERG
An on-site inspection of all the best blueprints, by our Pooh-Bah of potables
PLAYBOY'S PLAYMATE REVIEW—pictorial
A loving look over 24 of the best shoulders of 1983.
WHAT FATHERS KNOW BEST—compendium
Advice handed down to their famous children from some of the most notable fathers of this or any other generation.
A GUIDE FOR PROSPECTIVE HUSBANDS—fiction ANTON CHEKHOV
Just-translated wisdom for the ages for those who don't want to repeat all the mistakes of the post.
BERNARD AND HUEY—satire JULES FEIFFER
PLAYBOY FUNNIES— humor LITTLE ANNIE FANNY—satire HARVEY KURTZMAN and WILL ELDER
PLAYBOY ON THE SCENE
Say "Rowdy" to the new Audi; Personal Best; Potpourri; Grapevine; Sex News.
Seitenanzahl: 292 Seiten
Sprache: Englisch
Centerfold / Poster USA: Miss Januar von 1984: Penny Baker
Eigenschaften von diesem Artikel
Magazine vom Monat ...

1/Januar

Magazine aus dem Jahre ...

1984
4 andere Artikel in der gleichen Kategorie: